Education
Shuttleworth is committed to offering continuing education.
Webinar | 1 CREDIT
---
Digital events, flexible to meet the ever-changing needs of your business. Webinars will cover the hottest topics in our society, including workers compensation, wage/hour, marijuana/drug issues, performance management, ADA, FMLA, and other workplace issues that may arise.
Quarterly Roundtables | 2 CREDITS
---
Quarterly, in-person events covering workplace harassment, discrimination and cultural differences. Also addressed will be leave issues (ADA/FMLA), harassment/culture, investigations, and wage/hour. Structured education allows for informed decisionmaking by your management teams.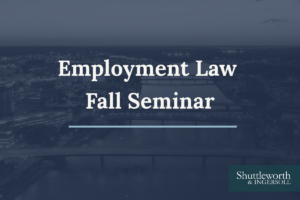 Shuttleworth & Ingersoll invites you to join our team of employment law attorneys for our Annual Fall Employment Law Seminar!
Location: 7725 Kirkwood Blvd SW
Date & Time: November 3rd, 8:00 a.m. – 12:00 p.m.
Attendees will receive 3.0 CLE & PDC Credits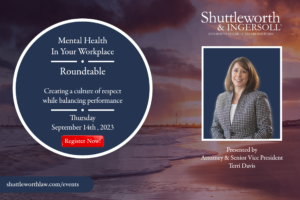 Mental Health in Your Workplace Roundtable 
Attorney: Terri C. Davis
Date: September 14th, 2023
Time: 10:30 a.m. – 1:00 p.m.
Credit: 2.0 Hours of CE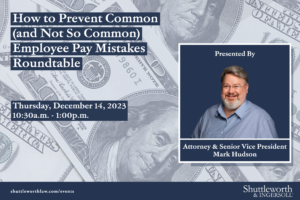 Common Mistakes in Employee Pay Matters Roundtable
Attorney: Mark P. A. Hudson
Date: December 14, 2023
Time: 10:30 a.m. – 1:00 p.m.
Credit: 2.0 Hours of CE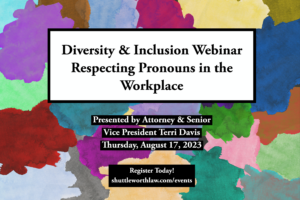 Diversity & Inclusion – Respecting Pronouns in the Workplace
Attorney & Senior Vice President: Terri C. Davis
Date: August 17, 2023
Time: 12:00 p.m. – 1:00 p.m.
Credit: 1.0 Hour of CE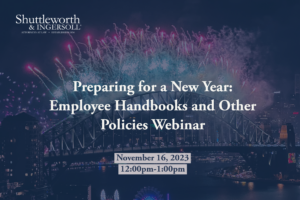 Preparing for a New Year: Employee Handbooks and Other Policies to Review
Attorney: Laura L. Folkerts
Date: November 16, 2023
Time: 12:00 p.m. – 1:00 p.m.
Credit: 1.0 Hour of CE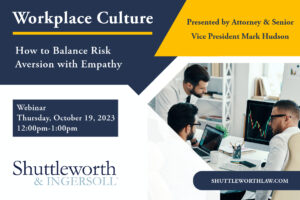 Workplace Culture – How to Balance Risk Aversion with Empathy
Attorney & Senior Vice President: Mark P. Hudson
Date: October 19, 2023
Time: 12:00 p.m. – 1:00 p.m
Credit: 1.0 Hour of CE
Classic
6 Credits of Training
$700
$100 Discount for Fall 2023 Seminar attendees
10% Discount for Nonprofit Organizations
Flexible Credit Rollover into 2024
Premier
12 Credits of Training
$1200
$100 Discount for Fall 2023 Seminar attendees
10% Discount for Nonprofit Organizations
Flexible Credit Rollover into 2024
Executive
24 Credits of Training
$2300
$100 Discount for Fall 2023 Seminar attendees
10% Discount Over the Premier Package
Flexible Credit Rollover into 2024