Preparing for a New Year
October 24, 2023
Cedar Rapids, Iowa (October 24, 2023)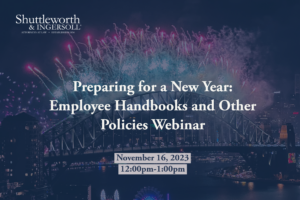 It is time for that annual check-up!
As the ancient Greek philosopher Heraclitus said, "Change is the only constant in life." Those practicing in the world of human resources are no stranger to change. We are always learning, always growing, and always adapting.
2023 has been no exception. Artificial intelligence, pay transparency, and the NLRB have taken many headlines and driven change to policies and procedures in the workplace. Updated Form I-9 and poster requirements have taken effect. The DOL has proposed a new rule affecting the exempt status of millions of employees. Employers everywhere are still grappling with the who, when, where, why and how of hybrid and remote workplaces. The Pregnant Workers Fairness Act, PUMP Act, and Speak Out Act have all garnered attention, and yes—led to new and updated workplace policies.
Having—and more importantly, following—legally compliant personnel policies are the first step in risk management. It is very important for employers to conduct their annual check up to make sure their internal policies and procedures are up-to-date and appropriately implemented in light of our ever-changing laws and regulations.
Join Attorney Laura Folkerts on November 16 to discuss 2023's biggest changes in the area of employment law, and discuss recommended policy and procedure updates in light of these changes. After our one hour together, you will be ready to conduct your company's annual policy check up and make necessary updates to get 2024 started on the right foot. Click here to register: https://www.shuttleworthlaw.com/register/preparing-for-a-new-year-employee-handbooks-and-other-policies-to-review//
About Shuttleworth & Ingersoll
Shuttleworth & Ingersoll, P.L.C. is a multi-specialty law firm with offices in Cedar Rapids, Iowa, Coralville, Iowa, and Waterloo, Iowa, providing legal services to clients in Iowa and around the world. Established in 1854, the firm has grown to become one of Iowa's largest firms with approximately 60 talented and experienced lawyers who provide a full range of business, litigation, family, and intellectual property legal services. Using a collaborative, team-based approach, Shuttleworth & Ingersoll is able to provide innovative, cost-effective solutions to client problems.
For more information, please visit www.shuttleworthlaw.com.