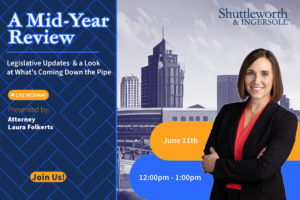 A Mid-Year Review Webinar: Legislative Updates and a Look at What's Coming Down the Pipe
June 11, 2024
12:00 p.m.-1:00 p.m.
Presented by Attorney Laura Folkerts.
Are you overwhelmed by the constant effort to keep up with the law? Join Attorney Laura Folkerts to learn about new laws going into effect and to peel back the curtain on what Shuttleworth & Ingersoll attorneys see coming down the pipe that will affect the workplace.
Attendees will receive certificates for 1.0 CLE & PDC Credits.